Meat Bowl Cutter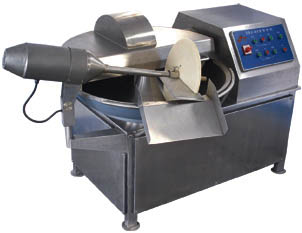 1.Made of high quality stainless steel(304), reliable and safe.
2. Easy to wash, well sealed.
3. The appearance of special treatment, coordination generous, ingenious design.
4. Low noise and little vibration.
5. Selection of machines imported bearing.
6. Stainless steel pot for the casting of special treatment.
7. The comination of reasonable chopped to cut product fineness, and small warming.
8. The greatest degree of emulsified meat products increased level of flexiblity and delicate degrees.
9. This makes the machine work smoothly safely silently.
| | | |
| --- | --- | --- |
| Commodity | Meat bowl cutter | Meat bowl cutter |
| Model | MBC-80 | MBC-125 |
| Volume | 80L | 125L |
| Capacity | 70kg | 100kg |
| Speed of Knife chop | 4000r/min | 4200r/min |
| Bowl cutter knives | 6 | 6 |
| Bowl rotation speed | 7/11r/min | 7/11r/min |
| Power | 17.6KW | 33.5KW |
| Rotation speed of output | 85r/min | 88r/min |
| Material | stainless steel 304 | stainless steel 304 |
| Package | Wooden case | Wooden case |
| Dimension | 1800×1500×1400mm3 | 2000×1500×1400mm3 |
| Weight | | |
Meat Bowl Cutter
©2008 WEIVO® - Satisfactorily Serve