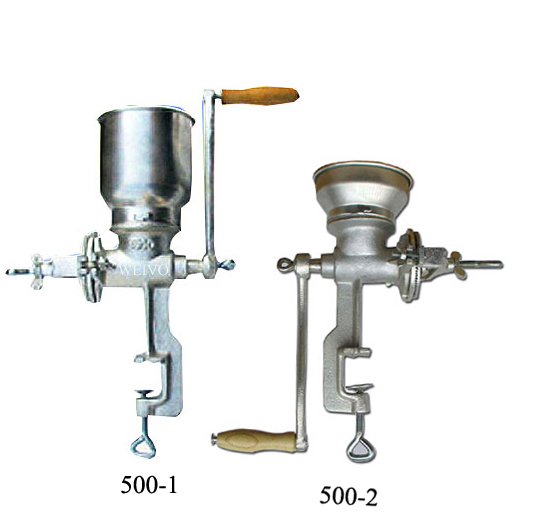 Master Chef Model No.500
Specification
*Grinding corn,multi grain for better health breads and flavor enhancing recipes.
*Special grind-corn breads
*Special mixed flavor coffee grinds
*Nut butters,spreads and mixes
*Herb seeds,cinnamon poppy,peppers,etc.
*Heavy duty castiron construction,tinned for rust resistance,grinds a pound of grain per min.
*grain corn cereal mill for gourmet.
*Course to fine Grinding
CORN-GRAIN-CEREAL-MILL
MASTER CHEF NO.500

TYPE

201

202

500

DIM(CM)

64*41.5*21.5

58*42*26

44*33*33

G¡¢W./N¡¢W.

41/38.5

30.7/28

31/29

QTY PCS

8

8

6

20FT FCL

3440

3200

4200

GRAIN SIZE OF GROUND FOOD STUFFMESH

26

26

26

POWER

COFFEE

3

3

3

CAPACITY OF GRINDING FOODSTUFF KG/H

COCOA BEAN

3

3

3

GREEN GRAM

4

4

4

ASSEMBLY INSTRUCTIONS
A.Insert AUGUR 3 into opening on front of corn mill BODY 4;
B.Attach mounting bracket with wing NUTS 2 to boday bracket on BODY FRONT 4 and tighten;
C.Attach crank HANDLE 5 to backside of body using wing SCREW 6 and tighten.Mount feed HOPPER 7 to top of BODY 4 and twist in clockwise direction.
TO ADJUST FROM COURSE TO FINE MILLING:(grinding of dry grains and foodstuff such as nuts,oats,corn,wheat,coffe etc.),turn large threaded SHAFT 1 locking steel burr in place.Grain mill is now fully operable.
CLEAN AND MAINTANCE
After each use unit should be thoroughly washed in hot,soapy water and dried thoroughly utilizing terrycloth toweling.A light coating of vegetable oil should be applied fo preservation of metalic finish.
NOTE
Do not put your figers or other objects into the chopper opening while it is in operation.
GRINDER NO.201 & ACCESSORIES