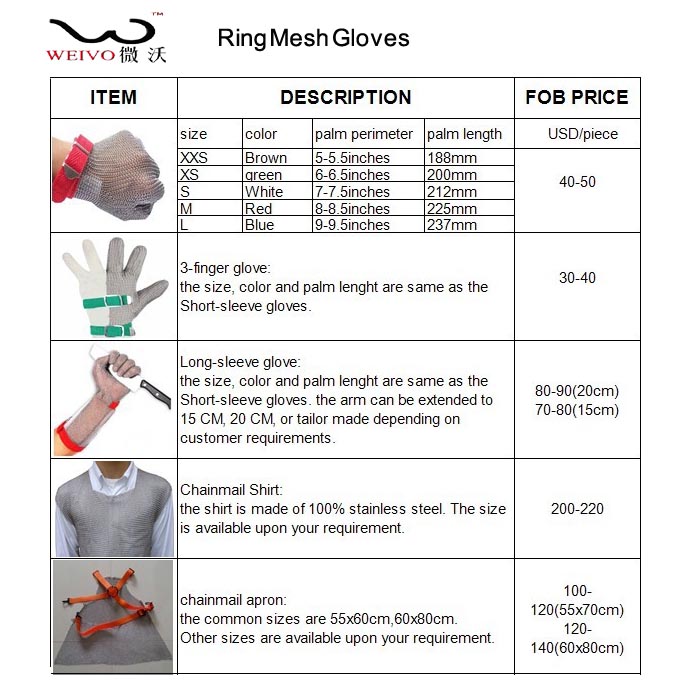 STEEL MESH GLOVE

Steel Mesh Glove is constructed of high tensile strength, corrosion-resistant stainless steel rings. Gloves are easily reversible, thus significantly reducing inventory carrying costs. WEIVO stainless steel rings resist process fats and oils and are easily cleaned.
Sizing
To determine your size, measure the circumference around the palm area. This is your glove size. For example, 7" is equal to a size 7 glove. (XS = 6-7 S = 7-8, M = 8-9, L = 9-10, XL = 10-11)



Product Styles


Description
Steel Chain Mesh Glove X Small
Steel Chain Mesh Glove Small
Steel Chain Mesh Glove Medium
Steel Chain Mesh Glove Large
Steel Chain Mesh Glove X Large




Steel Chain Mesh Glove
Fiber Steel Mesh Glove
Constructed of natural and man made fibers with Stainless Steel, provides a protective glove that resists slicing and slipping during fish handling and cleaning. Unique design fits either the left or right hand, machine washable. Sold individually in Small, Medium and Large.