Slicer Machines, Blades and Parts
Hobart Meat Slicer, Berkel Slicer, Berkel 808 Slicer Parts, Deli Slicer, Slicer Blades
We carry a variety of meat slicers, such as Hobart meat slicers and Berkel slicers, and we're also a reliable source for a variety of brand-specific and model-specific replacement parts, such as Berkel 808 slicer parts.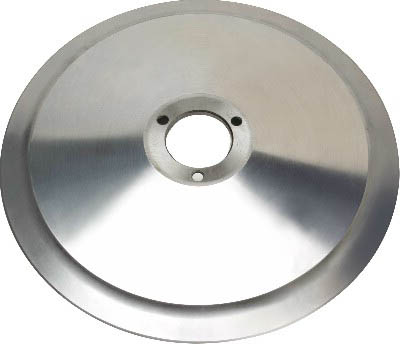 Slicer Machine Parts:
Berkel sharpening stones, Bizerba sharpening stones, center plate screws, Globe slicing machine stones, Hobart sharpening attachment, Hobard sharpening stones, and safety knife covers.
Made in China, ISO 9002 Certified. WEIVO Knives are made from the finest steel and heat treated by a patented process. According to the quality standard from the world. All blades are properly packed and shrink wrapped.
It's always recommended that a new set of sharpening stones be put on with a new blade.
If you don't find your make or model, OR for Quantity Discounts, Sharpening Services or Special Orders:
Please e-mail us.
Slicing Machine Blade Cross Reference
(HC and C = Carbon Steel with Hard Chrome Finish | SS and S = Stainless Steel)
| | | | |
| --- | --- | --- | --- |
| Globe # | Fits GLOBE Models | Diameter | Mounting Holes |
| 1021 | 3600, 3850, 3975, 4600, 4850, 4975 | 11 &1/2" | 3 |
| 1022 | Same as above | 11 &1/2" | 3 |
| 510 | 75, 150, 260, 510, 610, 660, 710, 760, 810 (Ring) | 11 7/16 | 12 |
| 510SS | Same as above | 11 7/16" | 12 |
| 963-HC | 285, 300,400, 500, 685, 715, 720, 725, 765, 770, 775, 815, 820, 825, 850LR, 875, 875RL, 2500, 2700, 2750, 2850, 2875, 3500, 3750, 3875V, 4500, 750, 4875 and All "L" and "SL" Models. (Hollow Ground Style | 11 &1/2" | 6 |
| 963-S | Same as above | 11 &1/2" | 6 |
| | | | |
| --- | --- | --- | --- |
| Berkel # | Fits BERKEL Models | Diameter | Mounting Holes |
| 3633-5024 | 3340, 3350 | 12 &1/2" | 0 |
| 3675-00074 | 807, 817, 808, 818, 909,909C, 909CI, 909ES, 909FA, 919FS, 919, 2340, 2350 | 12 &1/2" | 0 |
| 3675-00070 | Same as above | 12 &1/2" | 0 |
| 827-00073 | 827 (Made In Italy) | 12" | 4 |
| 827-00073 | 827 (Made In Italy) | 12" | 4 |
| 3675-00085 | 910, 915, 115, 180, 180D, E, F, FA, GS | 14 &1/2" | 3 (Stacker |
| | | | |
| --- | --- | --- | --- |
| Hobart # | Fits HOBART Models | Diameter | Mounting Holes |
| N/A | 1612, 1612E, 1612EC, 1712, 1712E, 1712EC, 1712R, 1812, 1912 | 11 &3/4" | 0 |
| SS439870-1 | Same as above | 11 &3/4" | 0 |
| SS439870-4 | 2612, 2712, 2812, 2912 | 11 7/8" | 0 |
| | | |
| --- | --- | --- |
| Fits FLEETWOOD Models | Diameter | Mounting Holes |
| 312, 412, 1312, 1412, BF300, 312E, A300 | 11 &3/4" | 4 |
| Same as above | 11 &3/4" | 4 |
| | | |
| --- | --- | --- |
| Fits BIZERBA (BIRO) Models | Diameter | Mounting Holes |
| G12, SE255, A301, GSG-12, GSG12A, 300B | 11 &3/4" | 4 |
| Same as above | 11 &3/4" | 4 |
| G13, SE355, SE12, SE128, A330FB, A330, A400, A404 & 1994 and new models SE8, SG8D, VS8, VS8D, VS8F, VS8A, VS12 | 13" | 4 |
| Same as above | 13" | 4 |
| Pre-1994 SE8, SE8L, SG8D, VS8, VS8D, VS8F | 13" | 3 |
©2006 WEIVO® - Satisfactorily Serve